Design Project Details
Infinity Greens
← Back to Projects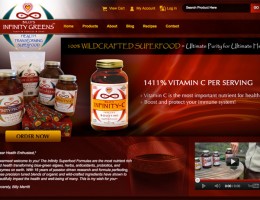 URL: http://www.infinitygreens.com/
Client: Billy Merritt
Date: 9th December 2011
This project for the company Infinity Greens, was an upgrade from an antiquate (yet functional) e-commerce system that was patched together from a couple of different sources and not very user friendly, to an integrated WordPress and ZenCart combination.
Beginning with an upgrade to an elegant design, we then worked to move all the data from the old shopping cart, including orders and customers. The best part of this was that in the new ZenCart, Billy Merritt of Infinity Greens was, for the 1st time, actually able to look at his over all online sales numbers – WOW!
We then integrated the approved design into both WordPress and Zencart, created new product image, banners and more.