Why I love WordPress 3.1
The long-awaited fourteenth release of WordPress is now available. WordPress 3.1 "Reinhardt" is named in honor of the jazz guitarist *Django Reinhardt. Version 3.1 is available for download, or you can update from within your dashboard.
This release features a lightning fast redesigned linking workflow which makes it easy to link to your existing posts and pages, an admin bar so you're never more than a click away from your most-used dashboard pages, a streamlined writing interface that hides many of the seldom-used panels by default to create a simpler and less intimidating writing experience for new bloggers (visit Screen Options in the top right to get old panels back), and a refreshed blue admin scheme available for selection under your personal options.
So let's break these features down in my order of importance (and coolness).
1. New Updated Admin Color Scheme
New but not a very big deal – I still like the gray. But the other thing you will see in the image below is a couple of check boxes that will allow you to choose where to show your new Admin Tool Bar (#3)
2. What WordPress is calling the Streamlined Writing Interface
What this means is that WordPress 3.1 has removed (hidden, actually) many of the "seldom-used panels by default to create a simpler and less intimidating writing experience for new bloggers". This is great, unless it hides certain things link "custom fields" which I set up for my design and marketing clients, like fields for meta tags, and the featured content gallery image. This is especially cool when a client upgrades to WordPress 3.1 and those areas disappear on their edit and add new pages…
The concept is good – and anything hidden can be easily re-added to the page. I mean, really, who likes clutter anyway?
To add fields to your edit/add new page, just click the "screen options" button on the top right of your dashboard, to reveal all the fields available for your page.
Check or uncheck boxes depending on what you want to show on your page.
3. The New WordPress 3.1 Admin Tool Bar
This is great. Your new Admin Tool Bar can display in your admin and (way better yet) it can display for you, as long as you are logged in, on the top of your public site. So with one click, you can navigate from anywhere on your public site to nearly anywhere in your admin with one simple click! Sure beats the edit button on a post, if your trying to get to your profile page!
4. WordPress 3.1 Internal Linking Workflow
This is HUGE and it's my favorite! I don't know about you, but I have spent way too much time opening multiple tabs so I can add a link from one post or page to another. Now all you do is highlight the text you want to link from,  click the "link" icon… (It's the little "chain link" icon in your edit toolbar.)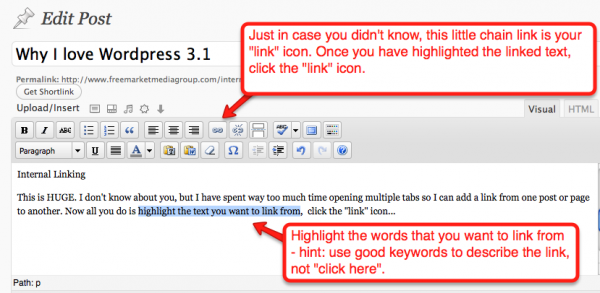 When you click the add a link icon you will see a new simplified pop up to create your link. Then, to add an internal link to another blog post or page, click the text that says "or link to existing content".
Now you get the option to link to any content (a blog post or page in your WordPress installation! I love that!
After you click the "Add Link" button – you can see your link in the edit screen
If you have any comments or feedback, please join the conversation below.
Did you know: WordPress core developers share a love of jazz music, and all major releases (from 1.0) are named in honor of jazz musicians they admire? That explains why this version is named "Reinhardt". To learn a little more about Jazz Guitarist Django Reinhardt, read on.
* A Little About Django Reinhardt
Django Reinhardt is one of the greatest guitarists in history. He's tremendously influential, wicked cool, and incredibly vibrant and lyrical.
Django Reinhardt was the son of a traveling entertainer and the brother of Joseph Reinhardt. He grew up in a gypsy settlement outside Paris. Reinhardt first played violin and later took up guitar, and began working professionally in 1922 with the accordionist Guerino. In 1928, he was badly burned in a caravan fire, which resulted in the mutilation of his left hand. This deprived him of the use of two fingers and led him to devise a unique fingering method to overcome his handicap.
Read more… and by all means, watch the movie below.