Contrast in Styles – The Evolution of the Starbucks Siren
Wednesday Small Business Bonus!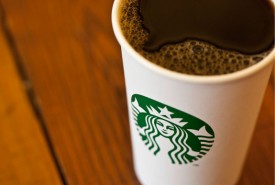 A while back, I wrote about the GAP changing it's logo and suffering a HUGE backlash online. What the GAP did was drop a bomb on their customers with no warning or no explanation.
Why Should the GAP warn us?
Just look at the backlash. With the advent of Social Media, it is increasingly difficult to fly under the radar. With the GAP as customers, we look to the iconography as familiar – we like familiar, it makes us feel safe. It's like coming home after a day at school only to find out that your mom rearranged you closet and threw away your favorite shirt.
As a small business, it is extremely important to breed familiarity amongst your peeps. It makes them feel safe, when they feel that they know you and trust you.
The contrast that the title of this post alludes to is the contrasting way that Starbucks (my go to Social Media using business!) is updating their logo.
This from the CEO's Starbucks Blog:
Nearly forty years ago – in a small retail space in Seattle's Pike Place Market – Starbucks began its journey as a roaster and retailer of high-quality coffees from around the world. Back then, we sold only whole bean coffee – we wouldn't begin offering espresso beverages in our stores until more than a decade later – but the Siren was as much a part of the Starbucks story as she is today.

On any given day here in Seattle, I might visit that original Pike Place store – but I might also drop in at our newly refurbished Olive Way store. The two store designs couldn't be any more different – one harkens back to our heritage, the other looks boldly ahead to our future – but at their core, they're identical, in that they retain the elements that have been true about Starbucks since the very beginning:

- A unique retail experience that creates a Third Place for our customers between their homes and places of work
– A carefully crafted offering of the finest, high-quality coffees from around the world
– The emotional connection that our partners make daily with our customers.

Throughout the last four decades, the Siren has been there through it all. And now, we've given her a small but meaningful update to ensure that the Starbucks brand continues to embrace our heritage in ways that are true to our core values and that also ensure we remain relevant and poised for future growth.
Notice how everything he writes in Customer Centric. from their dedication to their "emotional connection" with their patrons. He even calls Starbucks "A Third Place" – you know, that place you visit in between your home and work.
Next he writes:
You'll begin to see our evolution starting this Spring. And there will be much more to come, as we celebrate our 40th anniversary by honoring the millions of customers and thousands of partners who've made Starbucks such a welcoming presence around the world. We think you'll like what you see.
Whether everyone agrees with the logo change or not, the fact remains the company feels the need to evolve and they are inviting their "friends" to come along for the ride.
You can check out some more of the preview here – Starbucks' New Logo
What can you do to give your customers comfort and give them a feeling of "A Third Place"? Please share your ideas and comments below.