Marketing Like a Rock Star, Take Two
Marketing Lessons From Christina Aguilera
While "cruising" around YouTube, I stumbled across this video of Christina Aguilera performing live in Sydney Australia. Watching this video (not my normal fare, but damn can she perform), I noticed how she uses so many sales and trainer techniques. I touched on this before in the post: How to Market Like a Rock Star!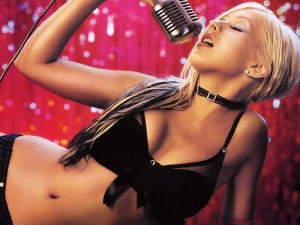 What are these, you ask? Good question. So, I'll provide the answer…
As any good trainer understands, when you are presenting from the stage, you want to enroll and engage your audience, not talk "at" them. How do you do this?
Enrolling questions. This engages your audience and makes them feel like they are part of the training, not merely a listener. Christina asks, "Are we having fun tonight, so far, Australia?" Loud roar of applause – the crowd is engaged, step 1. Next question: "Are there any sexy males in the audience?" Enrolling the guys first since she's talking to them, and secondly, the women who are responding to the call for sexy guys. Pretty clever, huh?
Audience participation. This keeps the audience active and engaged. You sit and listen to a symphony, but you participate at a rock show! First she introduces her male dancers and then (with subtlety) demands a response (in the form of applause) from the audience. Next she asks for a volunteer and sends her dancers into the crowd in search of a male volunteer. Like I said, audience participation. One additional benefit of the volunteer aspect is that it personalizes it. Everyone in the crowd (in this case, the men, for sure), live a bit vicariously through the volunteer.
Including the whole audience. When presenting to a group, it is extremely important to make everyone feel included. Christina does this by using the whole stage.
In this video it is also obvious that, yes, sex sells, but beyond that, Christina uses a lot of other presenter and selling techniques. How many examples can you catch? Would love to read your "catches" in the comments.